Best Mouse for Fortnite in 2020
Last Updated: March 16, 2020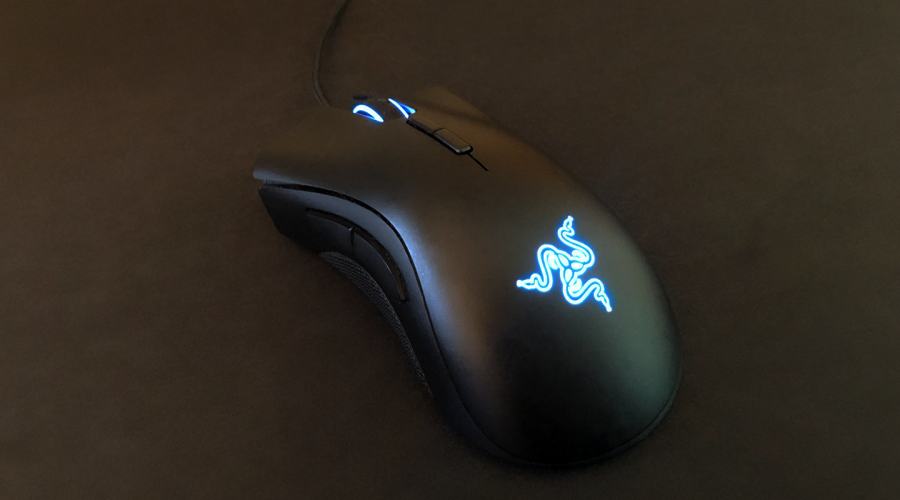 Are you in need of a new mouse to play Fortnite with? Then don't worry, we have got you covered in this detailed guide!
Fortnite is a fast-paced shooter game, so it's critical to have a good gaming mouse in order to perform well. The reason why it's so critical is because a mouse greatly affects one of the most important factors of the game; aiming. Aiming heavily relies on focus, muscle memory and consistency, two elements in which a mouse can influence.
The issue most people have when choosing a new gaming mouse is deciding which one they want to buy. Because there are so many different brands and models out on the market, it can be tough to choose, and we understand that. That's why we have decided to do some research and sum it all up for your ease.
In this guide, we're going to be showing you our top mice picks for Fortnite, and we're also going to be reviewing them. The mice that we have chose come from the analysis of many factors, including: reviews, player feedback, use by pros and much more.
Here are some quick stats for these mice:
| Mouse - | DPI - | Buttons - | Sensor - |
| --- | --- | --- | --- |
| | | | |
| | | | |
| | | | |
Now let's dive into some more detailed information:
1. Logitech G Pro Wireless
Best Wireless Mouse for Fortnite
This gaming mouse is the Logitech G Pro Wireless and comes from Logitech's "Pro Series", hence "G Pro" in the name. Logitech's Pro Series gaming gear is specifically made for and by Esports players. Within that series they have been creating some amazing products, this mouse is definitely no exception.
The shape, size and design:
The G Pro Wireless is a medium sized ambidextrous mouse. This means that you will be able to use this mouse with comfort whether you're left or right-handed. As for the side buttons, you get two fully modular buttons on either side of the mouse. This makes this mouse great for lefties, not only is it ambidextrous, but it also gives left-handed players the option to have side buttons on their preferred side of the mouse. It's also a nice feature for right-handed users as it gives you extra buttons to use. Because they are fully modular, if you prefer to have them off, you can simply take them out. And the weight of this mouse sits at ~80 grams, which is immensely light for a wireless mouse.
Up until recently wireless mice have been considered inadequate for gaming due to latency, battery and stuttering issues. With the arrival of this wireless mouse, Logitech has set the bar high for the wireless category. This mouse performs as good and maybe even better than your standard cabled mouse. This is because of Logitech's new technology that they have developed (LIGHTSPEED Wireless). This new technology overcomes the troubles that wireless mice have had in the past.
The battery life for this mouse is just around 48 hours or 2 days, but while using the Logitech POWERPLAY technology, you can charge your mouse just by having it on your mousepad. This is a huge step up from what wireless mice have previously faced, the troubles of batteries or charging via a cable. You do still have to charge this mouse using a cable if you don't have POWERPLAY, so I'd recommend getting it. The sensor that this mouse utilizes is the HERO 16K. The HERO 16K is pretty much just a Logitech branded 3366 sensor by Pixart. Logitech have been using this sensor within all their new mice, including this one. The sensor is definitely a leader in the market so you can guarantee that it will perform amazingly.
If you have ever thought of converting over to a wireless mouse, then I'd say the time is right now. With this new technology you can game as well as you do with a cabled mouse, and without the cable getting in the way, you may even perform better. The only thing you may be concerned about is the not so cheap price. Other than that, you will be getting some exceptional performance from this mouse.
2. Finalmouse Air58 Ninja
Best Gaming Mouse for Fortnite
Fortnite streamer Tyler "Ninja" Blevins and the computer accessories company Finalmouse, teamed up to create this spectacular mouse. The whole concept of this mouse is based around Ninja's themes and colors. When purchasing the mouse you get two color options to choose between, either the Cherry Blossom Red or Mystic Blue, both have a pastel color vibe to them, which looks amazing. This mouse is considered to be quite similar to the Ultralight Phantom, which is another mouse produced by Finalmouse. What you're getting from this mouse compared to the Ultralight Phantom is the quality craftsmanship and the extremely light weight, we'll get into that later.
The Finalmouse Air58 Ninja is a fairly large mouse, I'd say it's in the medium to large category. Despite it being reasonably big, it still weighs extremely light. The weight of this mouse is one of the prominent features and selling points. This mouse is currently the lightest mouse on the market weighing in at 58 grams, hence the name "Air58". Are light mice better? A lighter mouse can feel more fluid and consistent allowing you to hit more shots, although this is personal preference. Most people I've come across do prefer lighter mice and to be honest, having to use a heavy mouse for long gaming sessions can be tiring.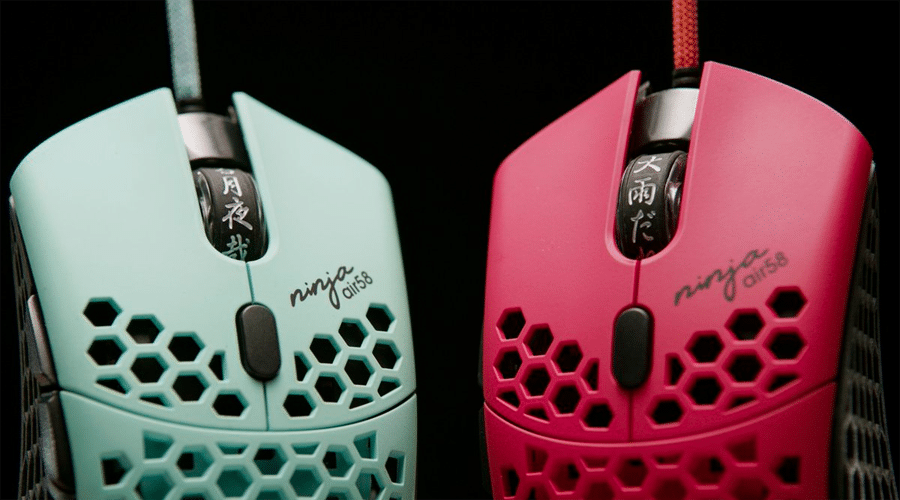 Regarding the aesthetics, there is some branding on this mouse. On mouse 2 (right-click button), there is Ninja's signature as well as "air58" written under it. Aside from that there is a very elegant feature which is the custom engraved Haiku written on the scroll wheel, I personally enjoy it and think it's quite neat. Some people may be turned away because of the branding on the mouse, at the same time some people may love it. Either way it's a great mouse so if you can look past it, you will enjoy it a lot.
The sensor this mouse uses is the 3360 by Pixart. This is a top tier sensor for gaming, so there is no need to worry about any issues there. The Air58 is an ambidextrous mouse, same as the Logitech G Pro Wireless is. The only difference is that this mouse only has right-handed side buttons, which if you use your mouse with your right hand, it shouldn't matter anyway. Overall the mouse is quite simple, it has both mouse 1 and 2 for left-click and right-click, 2 side buttons, a DPI switcher and a scroll wheel middle click.
This mouse has everything you need from good features to arguably nice aesthetics. If you can get over the harsh price point, then I imagine it will be hard for you to wrong with this mouse.
3. Razer Deathadder Elite
Best Cheap Mouse for Fortnite
The Deathadder series mice have been around for a long time. In fact the first Deathadder mouse was released back in 2006, that's more than 10 years ago! Obviously the mice have advanced since then with the latest edition being this mouse, the Deathadder Elite. The overall design and shape of the mouse haven't actually changed too much compared to the original, the reason being is because that's what people like about the mouse, mostly the shape.
The Razer Deathadder Elite is a large mouse suited towards larger hands. It weighs 105 grams and has an extremely comfortable ergonomic shape to it. So unlike the ambidextrous G Pro and Air58, the Deathadder is suited towards mostly right-handed use. Because of the mouse's shape and the fact that it is quite large, the Deathadder will fit very snug when using a palm grip. That doesn't mean you can't use any other grip though, you can still use claw and fingertip with ease. The mouse also has some nice rubber grips on either side of it, they are placed in the area just under where the side buttons go. You either like these or you don't, I personally feel like they help stop the mouse slipping out of your hands, yet some people despise these rubber grips.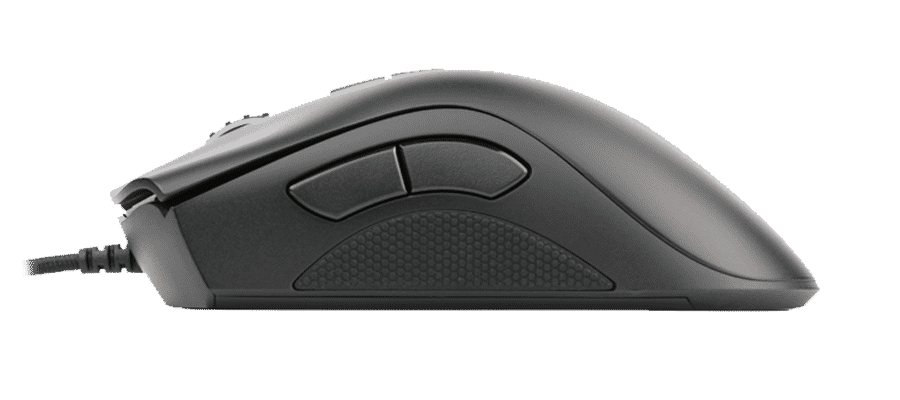 For its looks, the Deathadder Elite has RGB lighting on both the scroll wheel and the Razer logo, which the logo gets covered when the mouse is in use. The lighting is controlled through Razer Synapse and you have a choice between several different lighting modes and can choose between 16.8 million colors. Razer's gaming software is most definitely ahead of the competition, plus the fact that you get to control some sweet RGB lighting, you will for sure have a great time playing around with some settings. Aside from the basic gaming features of having scroll click, left and right mouse buttons and 2 side buttons, you also get 2 DPI switches which can be rebound to any key function you desire. Having extra buttons is always good to have, especially for keybindings.
The Razer Deathadder Elite is a great pick if you're looking for a quality mouse that won't break the bank. Not only do you get a comfortable ergonomic design, but you get all the features you'll require to have a fantastic gaming experience.
What to know when buying a new mouse
Tfue frequently uses the Finalmouse Air58 Ninja, one of the most highly regarded mice ever. He has used this mouse for quite a while now, and although he has switched out his mouse occasionally, he has always come back to this one.
So the question is, why do so many players prefer to use gaming mice rather than a cheap, ordinary mouse. The answer is quite simple, they perform better. Mice that are specifically designed for gaming generally have better sensors, more buttons, required shape and so on. In fast shooter games such as Fortnite, it purely makes sense to have the best equipment whilst playing.
Common terms used regarding mice
We're going to cover some terms that are frequently used when talking about a gaming mouse. If you're somewhat experienced with mice, then you'll know exactly what these mean, but in case you're not, here they are:
DPI stands for dots per inch which is the standard used to measure mouse sensitivity. This means that the higher your mouse's DPI, the faster your cursor will travel across the screen when you move your mouse. So having a higher DPI means a faster sensitivity, and having a lower DPI means you will have a lower sensitivity. Most Fortnite pros stay within 400-2400 DPI as this is the most tested and preferred range.
Polling rate means how many times your mouse will report information back to your computer. If a gaming mouse has 1000 Hz polling rate, it will report its position 1000 times every second. This does technically mean that having a higher polling rate is better for gaming, but you won't really notice any difference once you go above 500 Hz.
Mouse acceleration is a setting which makes your cursor travel distance reliant on your mouse velocity. To simplify, the faster you move your mouse with your hand, the faster your cursor will travel across the screen. Some people do prefer to use this setting, but if you're trying to get more consistent with your aiming, you probably shouldn't use this option. Having mouse acceleration turned off will allow you to build muscle memory for your aiming sensitivity. You can turn mouse accel (short way of saying acceleration) off within the windows mouse settings.
LOD or Lift-Off Distance is the distance in which you can lift your mouse before it stops tracking. For example, you lift your mouse and put it somewhere else on your table, the mouse doesn't register the movement because you lifted it higher than the LOD.
Most modern gaming mice have additional side buttons, the most common being mouse button 4 and mouse button 5. These additional buttons can be rebound to any key function, this makes them very useful for keybindings in Fortnite. Performing some functions, such as building, can be hard at times when you're trying to reach all the keys on your keyboard quickly. This can be made far easier by simply rebinding these keys to your mouse. A lot of players utilize this ability and in turn makes them a faster builder, of course this entirely depends on your preferences.
A better sensor means more fluent tracking, typically resulting in better aim and precision. Most gaming mice have somewhat decent sensors so it's hard to go wrong with any top rated mouse. One thing to keep in mind is to never choose a mouse with a laser sensor. Laser sensors have in-built acceleration, meaning it won't be able to pick up on some small movements, resulting in worse aim. Always pick an optical sensor, all the mice recommended by us have one.
What mouse you should get may depend on what games you play. If you play shooter games that require aiming (such as Fortnite, CSGO, PUBG, Overwatch), then all these mice that we have recommended will work fantastically for you. These mice will work great for you even with your everyday things such as browsing the web or your computer. The only thing you should keep in mind is if you primarily play MMO games, you may want to get a mouse with more buttons for keybindings, like the Logitech G600. Although games do have their differences, I'm sure that as long as you put in time and effort into a game, then you can work any mouse as long as it's a decent one.
Fortnite mouse for PS4, Xbox One, etc.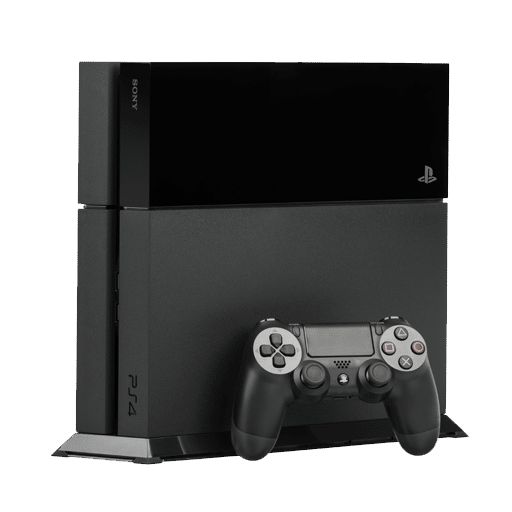 Even if you don't own a computer, you can still use a mouse and even a keyboard to play Fortnite with. All you have to do is plug your device into your preferred platform via USB. Then there you have it, you can now use a mouse on console. The current consoles that support this include PS4, Xbox One and Nintendo Switch. The only downside to doing this is that these platforms have in-built acceleration which cannot be disabled.
There are three main grip styles people use when playing. To find out what you use, simply observe how your hand is positioned the next time you play.
Why do grip styles even matter? Grip styles can have an influence on what mouse you should get. Generally speaking, peope who play with a Palm Grip are more comfortable with medium to large mice, while Claw and Fingertip are better for small to medium. This does come down to your own preference, so you don't have to be too concerned.
Palm Grip: This grip is the most common out of the three. For most people this style comes naturally because it puts your hand in a very relaxed position with the face of your palm covering the entire mouse.
Claw Grip: The second most common style is the Claw Grip. This is great for gaming as it allows you to be very precise with your clicks, the downside is it can tire your hand out over a long session of playing.
Fingertip Grip: This grip only uses your fingers and thumb to control your mouse, this can give great control and is less tiring than Claw.
What is the best mouse for Fortnite?
From our research, the Logitech G Pro Wireless seems to be the best mouse for Fortnite. It's not only used by many of the Fortnite pros, but it also performs phenomenally, and is a great wireless choice. Because the G Pro Wireless is a medium sized mouse, it should also fit most hand sizes, which is yet another plus.
The other mice in this list are also fantastic options, so feel free to grab up whichever you'd like, it's ultimately up to you.
Fortnite is a competitive game, and it's true you need good gear to play well. But remember another way to improve is by playing more. If you work hard enough you will always become a better player.
I wish you the best of luck in choosing your new mouse. If you're interested in seeing what mice the Fortnite pros use, check out our list of settings and setups here.