Best Gaming Keyboard for Fortnite
Last Updated: January 28, 2020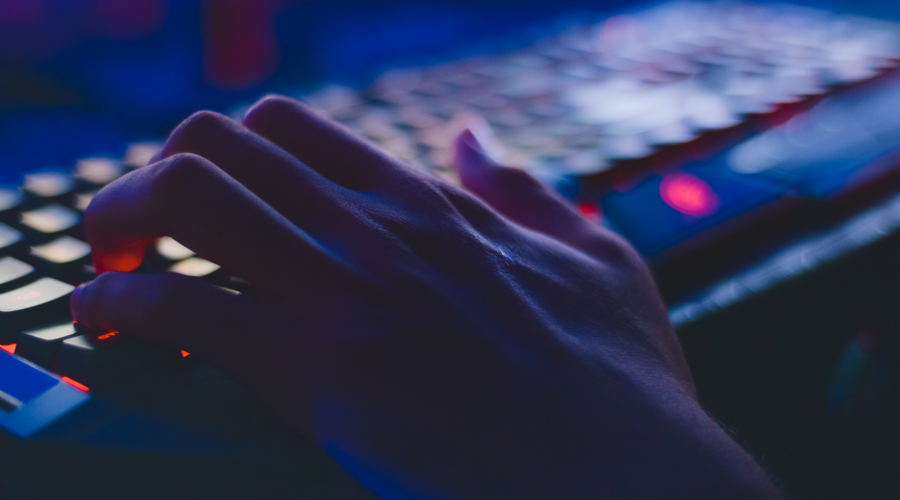 A gaming keyboard is a key component in having a great performing and functional setup. That statement is especially true for competitive games such as Fortnite.
Why should you use a gaming keyboard over a regular one? Fortnite is a highly popular competitive game, so to be one of the best means you have to compete against millions of users. With so many other players to verse, how will you beat the competition? Practicing your game is one of the best ways to improve, but if you have slow gear, you won't stand a chance against players that are better equipped. Gaming keyboards have been designed to be faster, more responsive, more comfortable, easier to use and so on. Hopefully this helps you to understand why you can't overlook what keyboard you use.
We have decided to create this guide in order to help you find the best gaming keyboard for Fortnite. We chose these keyboards based off of their ratings, popularity, use of among pro players and much more. Let's jump into it.
Now let's get into some more details for these keyboards:
Best Gaming Keyboard for Fortnite
The Logitech G Pro Mechanical Keyboard is apart of Logitech's "Pro Series", this series is designed by professional players and Esports athletes. The whole concept of this product is meant to be slick and simple, which is definitely displays with its aesthetics. Because this keyboard was designed for Esports use, you can guarantee that it will perform well in Fortnite and in general high pressure gaming situations.
This keyboard is TKL (Ten Key Less), which means there is no numpad. Numpads aren't particularly useful when it comes to gaming, so most people do prefer to have them removed. This frees up a lot of space on your desk, allowing your mouse to have more room to maneuver. Ten Key Less also makes a keyboard much more portable, rather than having to drag around a big clunky beast of a device, you just have a small, compact and easy to carry keyboard where you can take wherever you want with ease.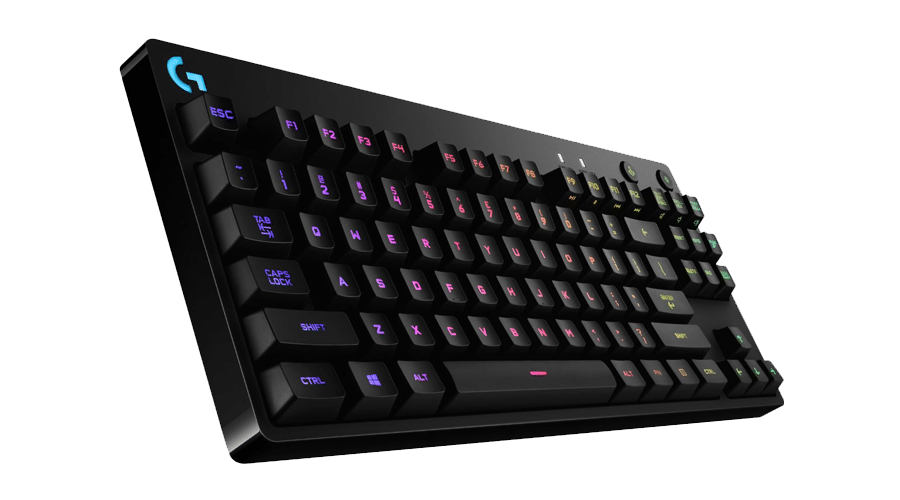 The keyboard itself is quite sturdy and without much wobble, which is good of course. The most prominent features about this keyboard are the gaming mode and lighting toggle buttons, as well as the sweet RGB lighting it comes with. The gaming mode button can be toggled and once it is enabled, the keyboard will disable the use of keys such as the windows key, ALT+F4, etc. We have all had those moments where you're in an intense situation and you accidentally close your tab, this feature makes sure you don't. The lighting button on the keyboard is simply the on and off switch for your lighting. For the RGB lighting, it can be fully configured using the Logitech Software, which is absolutely phenomenal. The cable attached to the keyboard is also detachable, which makes this keyboard even more portable.
The switches used in this keyboard are the Romer-G's, which are made by Logitech themselves (These switches are pretty much just a Logitech home brand of the Cherry MX Browns). The key presses are very silent which is a nice feature, unless you like the sound of loud mechanical keyboards. Compared to the feeling of the Cherry MX browns, they are a little underwhelming, specifically the tactile like feeling. Other than that the switches are very decent and the keyboard should perform profoundly in almost every situation.
of Fortnite Pros use Logitech keyboards.
Best 60% Keyboard for Fortnite
The Ducky One 2 Mini is a 60% sized keyboard, meaning that is has no numpad, similar to the Logitech G Pro. The other thing to know is that it also doesn't have any arrow keys, home keys or any other additional buttons including F keys, such as F1, F2, etc. To someone who has never heard of this, this probably sounds ridiculous. Small keyboards have recently been trending within the gaming community as people have come to realise that there is no need for additional keys, unless you need a whole lotta macros or keybinds.
A sixty-percent keyboard is exactly how it sounds, 60% of the size of a normal keyboard. This frees up even more space than a Ten Key Less keyboard, making it an ultimate portable deivce. The only thing is that this will take some getting used to, it's very strange using a 60% keyboard for the first time, but over time you will be able adjust to the simplicity. Despite being small and made entirely out of plastic, the keyboard is very solid and well built.

When you go to purchase the keyboard, you get a variety of choices when it comes to switches. You can choose between Blue, Red and Brown Cherry MX's. You can also change out the switches once you have the keyboard, this is a fantastic feature for someone wanting to test out different switches, rather than having to stick with one until you replace your keyboard. If you're unsure about which switch to go for, I'd recommend going for the Reds as the majority of people enjoy them.
of Fortnite Pros use Ducky products.
Good Keyboard for Fortnite
Razer has been stepping up their keyboard game lately, especially with the addition of this keyboard. Compared to older Razer keyboards, this Hunstman TE doesn't even feel like something Razer would create. What I mean by that is they have finally made some upgrades to the switches, overall design, detachable cable, and even Razer Synapse is looking far better. This is great news, Razer has always been the go to for gaming gear.
Similar to the Ducky One 2 Mini, the Razer Hunstman TE is made entirely out of plastic. This helps to keep the keyboard lightweight and mobile, which is great if you're often traveling or going to LANs. The keyboard is also "Tournament Edition", this is Razer's twist of saying TKL, Ten Key Less. As for the RGB lighting, Razer delivers as always! Razer makes some of the best, most vibrant lighting out on the market, plus they have countless different modes and customizable options. Aside from that, the overall keyboard is simplistic and performs exceptionally.
With this keyboard comes Razer's new linear optical switches. For the previous variants of the Hunstman keyboard, they have been using purple optical switches. Upon the arrival of this beast comes the new Red Liner Optical Switches from Razer. The actuation point on these bad boys are very fast so you know when you press a key you will be getting a quick response to your computer.
of Fortnite Pros use Razer products.
Things to know about gaming keyboards
In this short guide we're going to go over some general things you should know about gaming keyboards. Let's start.
There are three main types of keyboards and each use a different switch for each key to register your inputs. This switch is what has the biggest impact of how a keyboard feels, performs and responds. The most common are membrane keys, these switches feel quite cheap and are not the best for gaming. They also require to be pressed down fully to send input to the computer.
The second most common type of keys are chiclet keys. These are often found in laptop or low profile keyboards, they use very slim keys with a small amount of travel. Chiclet keys are great for typing but lack any responsive feel which makes them not the best for gaming with.
Mechanical keys are what most gaming keyboards use. These keys give you an increased sense of feedback or responsive feel, this is a part of what makes them good for gaming. Another bonus for mechanical keys is that they last much longer than your average membrane keys. Membrane keys normally offer a life span of ~5 million key presses, while mechanical keys can last more than 10 times as long. The only downside to these type of keys are that they tend to be more pricey.
Most mechanical switches will have their own characteristics, although most can be described as clicky, tactile or linear. The most popular switch among gaming keyboard manufacturers are Cherry MX swithes, these are some of the best switches out on the market. Some companies do create their own switches, such as Razer and Logitech.
Tactile Switches: These have a bump when you press the key which gives you a physical level of feedback that the key press has been registered.
Linear Switches: This type of switch lacks the responsive feel that tactile keys have, this makes them great for gaming but can be worse for typing.
Clicky Switches: These switches have an audible click when you reach the actuation point, and will assist you when typing.
Some gaming keyboard switches can be modified allowing you to change and swap the variants as you please, though you should probably just buy your favorite switch at the time of purchase. In the end of the day, key switches are a matter of personal preference, so you'll have to find what works best for you.
As you probably know already, most gaming keyboards have some type of in-built backlit lighting feature. Of course this is no priority when it comes to choosing the best keyboard, but it is a sweet addition. Razer has arguably the best lighting out on the market, Logitech isn't too far behind and Ducky's is kinda average.
The difference between RGB and LED lighting is that RGB covers the full spectrum. LED is usually just one singular or only a few colors. Always go for RGB lighting, it's more fun.
Conclusion - Best Keyboard for Fortnite
What is the best keyboard for Fortnite: The Logitech G Pro Mechanical Keyboard is arguably the best suited keyboard for Fortnite. Of course it may depend on your own preferences, but we highly recommend the G Pro. It's an all-round fantastic choice for beginners and experts alike.
We wish you the best of luck in choosing your new gaming keyboard. If you're interested in seiing what keyboards the pros use to play, check out our list of pro settings and setups.